Conquering The Giants Of Everyday Life
All Over The World We're Conquering The Giants Of Everyday Life... Together!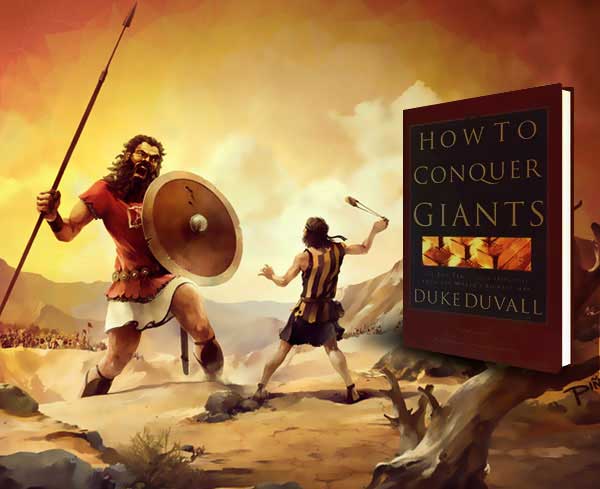 "People do things for their reasons, not our reasons," DuVall often tells business leaders during speaking engagements. "As leaders, we need to demonstrate that we understand that. Then by setting examples of excellence, we leave a legacy that compels others to rise to their own expanding vision for excellence."
DuVall lives his own high standard of excellence as director of development for the Leadership Development Group, a corporate consulting firm based in St. Louis, and as executive director of LIGHT OF THE WORLD, a non-profit organization that provides resources to charitable organizations worldwide. He has been honored by AT&T, Lockheed Aircraft National Management Association, the National Federation of High School Associations, and the National Society of Credit Union Executives, to name but a few of the companies and organizations he has served.
An influencer of the influential, DuVall has delivered messages on success, leadership, motivation, employee productivity, sales and management training, and organizational problem resolution for more than eighteen years. He currently speaks regularly to leaders in business, education, the arts, and the faith-based and charitable communities.
DuVall's popular MOMENT OF INSPIRATION is a five-minute, scripturally-based, teaching recorded new each day, and is accessible 24-hours a day, by phone or by internet (toll free 1-800-939-5689) and has proven to be a source of encouragement to individuals and families nationwide.
DuVall's familiarity with the ingredients for business success began early in life. He is the son of M.F. DuVall Jr., a former U.S. Navy pilot who joined Duke's grandfather, Milton DuVall Sr., in transforming both the political and business arena of their day. While Duke's father managed the combined family businesses, Duke's grandfather served four terms in the Missouri state legislature before his election to two terms as president of Best Western International, the world's largest hotel brand.
DuVall's own success legacy includes a communication degree from the University of Alabama, where he graduated with academic and athletic honors. He has interned with a leading New York public relations firm; helped produce the Los Angeles-based Jim Nabors Show, a talk/variety television program; and has developed and recorded numerous educational programs, including The Power of Dynamic Leadership and Making Your Impossible Dream Come True. His book and audio series How To Conquer Giants has been in publication for several years and is appreciated by readers and listeners all over the world.